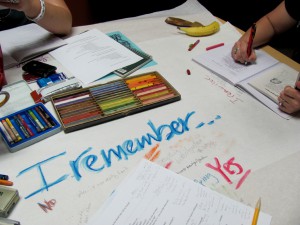 MOTHER WISDOM SPEAKS
by Christine Lore Webber 
Some of you I will hollow out.
I will make you a cave.
I will carve you so deep the stars will shine in your darkness.
You will be a bowl.
You will be the cup on the rock collecting rain…
I will do this because the world needs the hollowness of you.
I will do this for the space that you will be.
I will do this because you must be large.
A passage.
People will find their way through you.
A bowl.
People will eat from you
and their hunger will not weaken them to death.
A cup to catch the sacred rain…..
Light will flow in your hollowing.
You will be filled with light.
Your bones will shine.
The round open center of you will be radiant.
I will call you Brilliant One.
I will call you Daughter Who Is Wide
I will call you transformed.
Thank you for visiting the 'Life in Transit' on-line journal.
'Life in Transit' is an 'artist initiated public art project'.  Here on the LiT blog I and my collaborator, Toni Wynn and our archivist, Emily Willens, will be tracking the process and the progress of the courageous women joining us as we create visual art and writing together.
'Life in Transit' asks the question: Can a  group of marginalized and culturally invisible women express their inner strengths and inspire courage through personal art made public?
'Life in Transit' is a 'think global, act local' venture. It honors and respects the strength and vitality of women around the world who have taken action to be liberated from domestic violence and poverty.
Women  taking part in our residencies create art that combines words and images communicating the strength and courage gained byengaging  'Life in Transit' step by step with the intention of  bringing  a bit more calm, balance and stability to their lives and out into the world.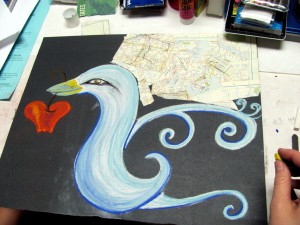 A  brief background:
In August of 2010 I was in a very uncomfortable and edgy place in my life.  I used the situation as an opportunity to step into the unknown.
My step became a most expansive leap bringing me into relationship with 1200 creative women around the globe. We began working together as 'change agents' and 'social artists'. Over the past two years we've been engaged in an adventure that we refer to as 'flying the plane while building it'.
The 'Life in Transit' project has come out of my relationship with this amazing group of women from around the world.  I became passionate about providing a forum for those of us who fall off the edge of the world and find that Life gets up underneath us. I wanted to provide a place where we could gather and see that when we feel as though we've been cast out through the experience of violence, homelessness, poverty of body and spirit that an invisible force rises up to help us. We're put on a track where we are led to the next step; the people, situations, opportunities and circumstances that will assist us in addressing our deepest and most challenging trauma.  My collaborators and I look forward to giving  voice and hearing yours as we explore the possibility for healing and evolving that's before each of us .
I thank you from my heart for your interest in helping women of the world feel supported in their healing process. I hope that you will go out into the world, in your own way, and  bring  awareness to women who face what appear to be insurmountable odds.
I look forward to your comments and our growing community of 'Life in Transit'. 
Metta
Donna Drozda/Wren House Studio
'Life in Transit'© an artist initiated public art partnership between Wren House Studio, Poet/Educator:Toni Wynn, TAO, and sponsored by MOCA, & the YWCA South Hampton Roads.